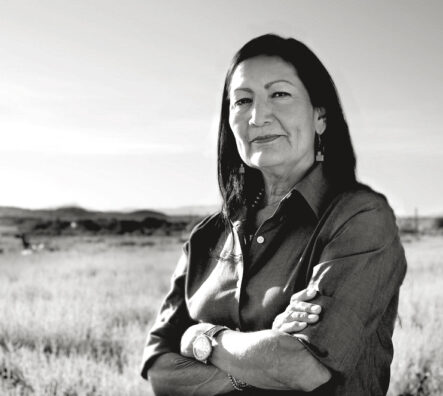 Deb Haaland
Secretary of the Interior
Deb Haaland made history in 2021 when she became the first Native American to ever lead the Department of the Interior, and the first Native American cabinet secretary period. And her nomination proved to be a big political win for President-elect Biden at a time when he needed one.
But as a first-term congresswoman without a close relationship with Biden, Rep. Haaland wasn't initially viewed as a leading candidate for the position. In fact, at one point the Biden transition team had fully vetted another candidate and was just days away from announcing them as the nominee.
The conventional wisdom was that no elected official who hadn't supported Biden in the primary could ever get in his cabinet, and that Haaland's record as a progressive would be a particular liability. Grassroots calls for her nomination were greeted with opposition (and more than a little condescension) from some on the transition team, who began anonymously attacking her experience and floating competing names for the nod.
"Some of Biden's advisers have begun anonymously planting the idea in news stories that the Native American congresswoman…is not qualified," wrote the Huffington Post. The New York Times reported that Haaland's "lack of policy experience worries some Biden advisers, who have suggested another Native American candidate." Even as late December 3, 2021 – just two weeks before Biden would announce the nominee – the New York Times singled out an Obama admin veteran as the frontrunner for Interior and labeled Haaland as merely "also in the running."
Haaland's dramatic transformation from grassroots longshot to Biden's nominee was driven by New Deal Strategies; we created and executed a winning communications strategy targeting Beltway media and insiders. Working closely and collaboratively with progressive groups, we organized and amplified the push to build up public and insider support for Haaland and created an enduring narrative.
We covered all the bases, highlighting Haaland's legislative successes, reputation for consensus-building, and bipartisan support in Congress. We emphasized the practical and symbolic significance of having a Native American managing and repairing the government's relationship with Indigenous communities, while stressing that Haaland being uniquely qualified for Interior was due to her particular track record and priorities. Working closely with Julian Brave NoiseCat of Data for Progress, we also helped to amplify the voices of Native groups who made it clear to team Biden that the enthusiasm for Haaland would not be transferable to just any Native American nominated for the role.
Within weeks, Haaland went from an outside contender to being seen as the inevitable choice by the mainstream media and political insiders alike. Given her strong and vocal support from Indian Nation, progressives, and the climate movement, we made it clear that it would be politically damaging for Biden to pick anyone else.
Haaland's nomination was a big win few saw coming. In fact, Haaland was the only cabinet appointee to have endorsed someone other than Joe Biden in the 2020 Democratic Presidential Primary. And her confirmation was truly historic – placing the first-ever Native American Cabinet secretary in charge of the department that oversees the country's Indigenous communities, federal lands, and natural resources.
Headlines