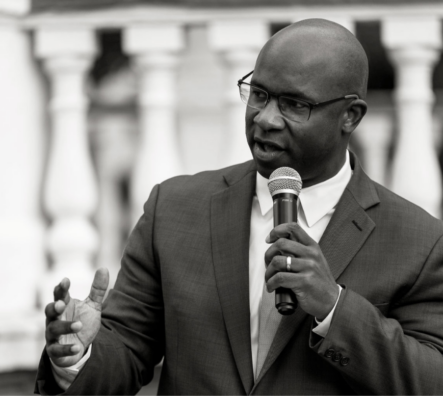 Jamaal Bowman
U.S. Congress, NY-16
As the communications team for Jamaal Bowman's 2020 campaign for Congress in New York's 16th District, New Deal Strategies helped the Bronx middle school principal pull off a stunning 16-point upset over a 31-year incumbent. New Deal was with Jamaal from the very beginning, driving the press and communications strategy that produced some of the best earned media coverage a first-time candidate for Congress has ever seen.
Running against a well-funded, entrenched incumbent is always an uphill battle, and the race became even more challenging when the pandemic struck in March 2020. NY-16 was at the epicenter of COVID-19, with the district home to the first surge in cases on the East Coast along with communities of color who would be hit particularly hard by the virus. The district needed a leader and a voice, but Rep. Eliot Engel was nowhere to be found.
We knew that Engel had abandoned this community when they needed him most, and pushed that narrative relentlessly. We used a steady stream of earned media to put the incumbent on the defensive – including a story in The Atlantic that exposed that Engel had been in Maryland throughout the entire pandemic and had lied about attending events in his district.
We kept up the pressure, and Engel finally blinked – he was forced back to the Bronx to campaign, leading to a fatal mistake. We caught him making a game-changing gaffe, helped it go viral, and never looked back.
New Deal worked seamlessly with the Bowman campaign team to establish the defining narrative of the campaign: Engel was absent from the district. Even just a few months earlier, it was not obvious that this would be the core attack on Engel, whose critics tended to focus on his hawkish foreign policy and less-than-progressive voting record. But before Engel even realized he had a real race on his hands, we had helped the campaign establish a clear, simple narrative that stuck. Finally, securing the New York Times endorsement helped to legitimize Bowman with remaining voters who may have still been on the fence about voting out a 16-term incumbent.
What began as a long-shot campaign ended with one of the biggest political upsets in recent memory and a huge win for the progressive movement.
When we started New Deal Strategies, this was exactly the kind of race we wanted to do — the kind of race that most consultants wouldn't touch because they would be blacklisted by the Party. It was a huge win for our firm and a validation of our core mission and sole focus on helping progressive candidates and causes.
The aggressive communications strategy and earned media generated by Rebecca Katz and New Deal is what helped break this race wide open. I can honestly say I would not have won without the hard work and creativity of New Deal Strategies.

Congressman Jamaal Bowman
Headlines